I am very excited to announce that our new GMAT® study app is available on both iOS and Android!
---
Download now!
---
Most second-round deadlines are in early January, so around now, a lot of people are asking me how to eke out the last 30 to 80 points they need to reach their goal.
Let's talk about what to do to try to lift your score that last bit in the final 2 months of your study.
Is this article for me?
Let's talk about GMAT Data Sufficiency.
Specifically, let's talk about getting GMAT Data Sufficiency (DS) problems wrong. And I don't mean those problems that you missed because of careless math errors, or because of concepts you hadn't learned yet. No, I'm talking about the missed DS problems that make you want to bang your head against the wall: How on Earth did I not get that?
There are two reasons you might have this experience: Read more
Recently, we took a look at a story problem dealing with ratios, and I finished up by giving you a second problem to test your skills. How did you do?
If you haven't already, try the GMATPrep® problem below and then we'll talk about it. Give yourself about 2 minutes. Go! Read more
How are you with story problems? Most math concepts can be presented in story form on the test and the GMAT test writers do like to get wordy with us. You've got a double task: you have to translate the words into math and then you still have to do the math! How can we get through these as efficiently as possible?
Try the GMATPrep® problem below and then we'll talk about it. Give yourself about 2 minutes. Go!
Last time, I introduced you to a set of principles that tie together everything we need to do on the GMAT.
If you haven't already read that article, go ahead and do so now.
Here's our framework again: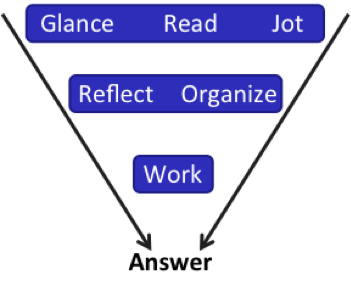 Today, we're going to try this out on a Data Sufficiency problem.
Try this DS problem from the GMATPrep® free exams.
Read more
Last time, we talked about how crucial it is to develop the instinct to go for the "No" when taking the GMAT. If you haven't read the first installment, do so right now, then come back here to learn more.
I left you with this GMATPrep® problem from the free exams.
"*If 0 <r< 1 <s< 2, which of the following must be less than 1?

"I. 

"II. rs

"III. s – r

"(A) I only

"(B) II only

"(C) III only

"(D) I and II

"(E) I and III"
Let's talk about it now!
Recently, a colleague of mine shared this very interesting puzzle published by the New York Times. (Thanks, Ceilidh!)
Go ahead and try it. I'll wait. After you've tried the puzzle, you can read the short article that goes with it.
What did you learn about how humans tend to think? More important, what did you learn about how you think?
That tendency to look for the no, or to try to disprove something, is a trait shared by scientists, devil's advocates, and great standardized test takers. You can learn to make this your natural reaction, too!
Wouldn't it be nice to have one common thread among all GMAT problems you'll ever do, something you do no matter what kind of problem or content area is being tested?
I'm here to answer your prayers. 
Okay, obviously, there are many things you're going to need to learn and practice in order to get a great GMAT score—these isn't literally just one thing to learn. But it turns out that there is one set of principles tying together everything we need to do on the GMAT.
Now that the new 2016 Official Guide books are out, I'd like to talk about how to use these problems to get the most out of your study. I also want to talk about what not to do, as a lot of people end up essentially wasting these great study problems (not to mention valuable time!).
What should I NOT do?
Your goal is to learn from the Official Guide (OG) problems in such a way that, if you see something similar on the real test, you'll recognize what to do on that new problem.
Keep some things in mind:
Your goal is NOT to memorize how to do the problems that you're studying. You won't see these exact problems on the test! Can you tell me exactly how to do a particular problem? That's great. But I care far more whether you can tell me how you know what to do and why you want to take the steps that you take. If you can, then you'll know how to think your way through a new problem on the real test.
Your goal is NOT to try to get everything (or even most problems) right. Sometimes, what you want to recognize fairly quickly is that you should guess immediately and move on. Other times, you want to recognize that your best strategy is to spend some time making an educated guess—and then move on. Still other times, you'll have to be able to recognize that you initially thought you could do this one but it's just not happening, so you'll need to cut yourself off, guess, and move on.