Did you know that you can attend the first session of any of our online or in-person GMAT courses absolutely free? We're not kidding! Check out our upcoming courses here.
---
So, you've just finished your first practice GMAT, and you've reviewed your assessment report. (If you haven't generated an assessment report yet, do it now, before you keep reading!) If you're like many of my students, you may have more questions now than you did beforehand. In this article, I'll share some of the most common questions raised by the first practice GMAT, and how to answer them.
"I'm good at math, so why isn't my Quant score higher?" Read more
Here's a scenario that might seem familiar to many of you: you take your first GMAT practice test, then you see the score. Ouch! Probably lower than you were hoping for, right? Read more
In the first part of this series, we talked about how to analyze your strengths and weaknesses and in which categories of "low hanging fruit" to concentrate your studies.
We left off talking about timing; let's talk about how to make better decisions as you take the test. Read more
Most second-round deadlines are in early January, so around now, a lot of people are asking me how to eke out the last 30 to 80 points they need to reach their goal.
Let's talk about what to do to try to lift your score that last bit in the final 2 months of your study.
Is this article for me?
A student of mine once emailed me after he took the GMAT. Instead of telling me his score, he wrote, "let's just say that 4 times my score is a multiple of 88, and 5 times my score is a multiple of 35."
Can you tell what he got? If not…you may need to work on your GMAT translation skills! Read more
How many GMAT practice tests should you take while studying for the test? GMAT expert Jonathan Schneider weighs in.  Read more
Here we go: the definitive guide to official resources for your GMAT prep! One of my colleagues, Jonathan Schneider, recently pointed out to me that people are constantly asking about official GMAT resources (the ones made by the real test makers). What's available? How much do they cost? Which ones are the best ones to use—and how? He suggested that I write this post, so send him your thanks.
Read more
Welcome to part 5 of our series on how to answer every single GMAT problem you'll ever see.
If you haven't already read the earlier installments, start with part 1 and work your way back to me.
Last time, I left you with a Critical Reasoning question from the free questions that come with the GMATPrep® software. Let's talk about it! Read more
Welcome to the fourth installment of our series: how to tackle every problem on the GMAT. If you're joining in the middle, go back and learn about the set of principles that tie together everything we need to do on the GMAT. Then work your way back to this installment.
Here's our framework again: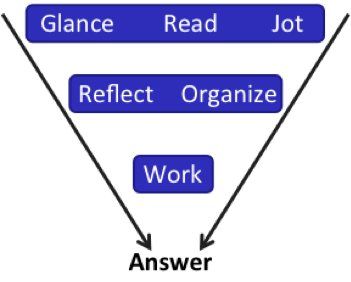 I finished off part 3 with the following GMATPrep® problem from the free exams. Let's use the SC process to answer it now. Read more
Recently, we took a look at a story problem dealing with ratios, and I finished up by giving you a second problem to test your skills. How did you do?
If you haven't already, try the GMATPrep® problem below and then we'll talk about it. Give yourself about 2 minutes. Go! Read more